So what is all this RSS hype? I've known about RSS feeds, what they are for, and how to use them for quite a while. It's not like they are new or anything! It wasn't until recently that I started to actually use them though. I didn't know what I was missing. RSS stands for "Really Simple Syndication". You can read a whole definition for RSS here. Basically, an RSS feed allows you to easily keep yourself up to date with the publisher of the feed.
There are all kinds of interesting feeds available. Instead of checking a favorite blog for instance, you can subscribe to their RSS feed and go back when new content is available. There are feeds for Podcasts, products, and there is even a feed available for letting you know which stores have the Nintendo Wii in stock.
I decided to list here a few ways that I'm using and enjoying RSS feeds.
Your Web Browser
If you're using a modern web browser, you'll have access to a built in feed reader. In FireFox, these are called "Live Bookmarks". Internet Explorer 7 simply refers to them as "Feeds". After you click on a feed, you'll see a page that displays the feed contents in a special format. You simply click "Subscribe" and your browser stores the address of the feed for later. Your browser then periodically checks for a feed update and the latest contents are available for you to view.
Once you've subscribed to your feeds with your browser, it is simple to view updated content while web browsing. Instead of checking the feed's publisher site, just check your bookmark or feed menu and see if there is anything you'd like to read.
Your Email Client
Most modern mail clients have a location to list RSS feeds as well. If you're using Gmail, you can see a random post from one of your feeds each time you refresh your mail view or visit a new label. Yahoo mail also has a place to store and view RSS feeds.
If you prefer a mail application instead of web based email, you're in luck there too. Appla Mail and Thunderbird both have a built in RSS reader. Just add your feed and see what's new each time you read your email.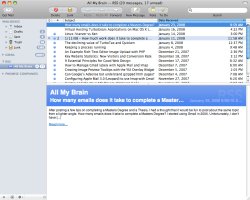 A Feed Reader
There are plenty of applications that allow you to read RSS feeds. Wikipedia has a pretty good list of feed aggregators already compiled.
I wanted to bring attention to one reader in particular that I like. Google Reader is a pretty typical RSS reader but they've built in a cool feature worth mention. As you read feeds that you've subscribed too, you have the option to share the content. Then, all the contacts that you have in your Gmail account automatically have access to the shared articles. In the same way, you'll be presented with content that your friends/contacts have shared that is not a part of your feed content.
For Publishers
If you have a site with constantly updated content, why not promote it with an RSS feed? In addition to creating your feed, you can use services like Feedburner.com to provide yourself with all kinds of statistics about your subscribers.